Gold & Gemstone Jewelry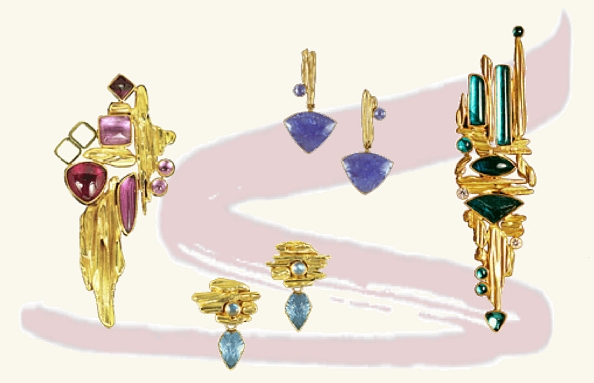 This collage of gold and gemstone jewelry images features four pieces from my collection of broom-cast gold work. Broom-casting is a technique in which molten metal is poured over the soaking wet, upturned bristles of a straw broom. This is a very "aromatic" process. (Have you ever smelled wet, burning straw?!)
The results are always of unpredictable sizes and shapes although a dripping, stalactite-like formation is typical. I occasionally use these pieces of broom-cast gold in their original form but more often I modify them in some way and then combine multiple pieces to achieve the effect I'm looking for.
The earrings at the top above ("Tanzanite Earrings") show an example of almost unmodified broom-cast pieces (although the backs had to be trimmed); while the lower pair of earrings ("Aquamarine Earrings") contain 5- 6 separate and refined pieces of gold ... each!
Of the four pieces pictured above, "Hothouse" (the pin with pink and red tourmalines) and "Aquamarine Earrings" are still available; "Skycastle" and "Tanzanite Earrings" have been sold. However ... the two available pieces are currently in one or another of the galleries that feature my work. If you are interested in purchasing one of these items, please contact me for more information.
The background the images float on – the "swoosh" as I've dubbed it – began life as a bit of black and white clip art which I then adapted and modified considerably. You may have noticed a version of it in the site icon ("favicon") which appears in the address bar of your browser at the top of all my web page windows.

"...the fine art of gold & gemstone jewelry design"
Fine Art Jewelry ~ Beth Rosengard